Stitch offers a fully functional dashboard once you have gone live with any of our production to monitor and keep track of all payments on stitch that have been processed.
The stitch dashboard will allow you to keep track of the below products once you have fully integrated with stitch :
The dashboard will able you to manage your client account settings by adjusting the below settings :
Redirect URIs (coming soon)
Webhooks (coming soon)
Generate client Ids (coming soon)
Download Recon statements (coming soon)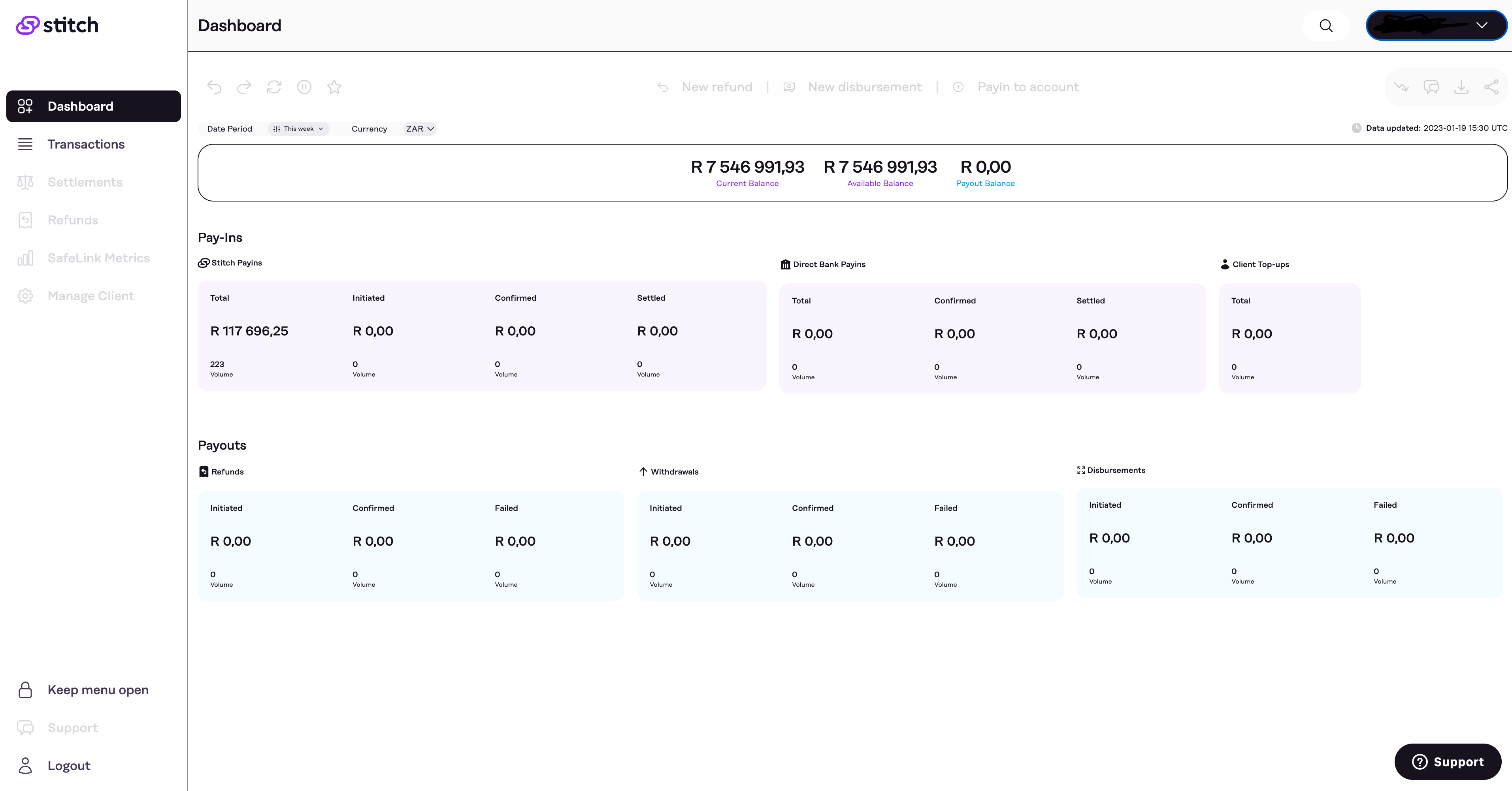 The stitch dashboard allows you to filter by date and currency, this help checks how your client is performing on a day-by-day basis, weekly, monthly, and yearly :


Transaction View : This view allows you to view all the transactions that have been processed for your client
Stitch Payins : The payins amount shows you summed up amount that have been paid into your bank account -
Direct Bank Payins : Direct deposits are payments made without

a

Payment Request

. This can happen if:

Stitch is configured to be in the flow of funds and
The user makes a payment directly from their banking portal.

Client Top-ups: Client Top-ups are tops made by a client in order top up their float account process refunds
Withdrawals: Withdrawals are made from a stitch bank account that has been setup with funds that have been paid into.
Disbursements: Disbursements are instructions for Stitch to pay directly to destination accounts. These come in two flavors:

Unlinked - create disbursements directly to a specified destination account.
Linked - disbursements to an account that was linked by Stitch (withdrawal use-case).

Settlements: A settlement represents a payout made to a client and contains a batched set of user payments.
Refunds: Refunds allow the reversal of payments made using InstantPay or LinkPay. Multiple partial refunds can also be created up to the amount of the original payment. This feature is currently only available to South African customers.
You will be able to filter transaction by the reference and payment request Id and in addition to the filter you will be able download a statement for recon purposes :